Structure of the JMMC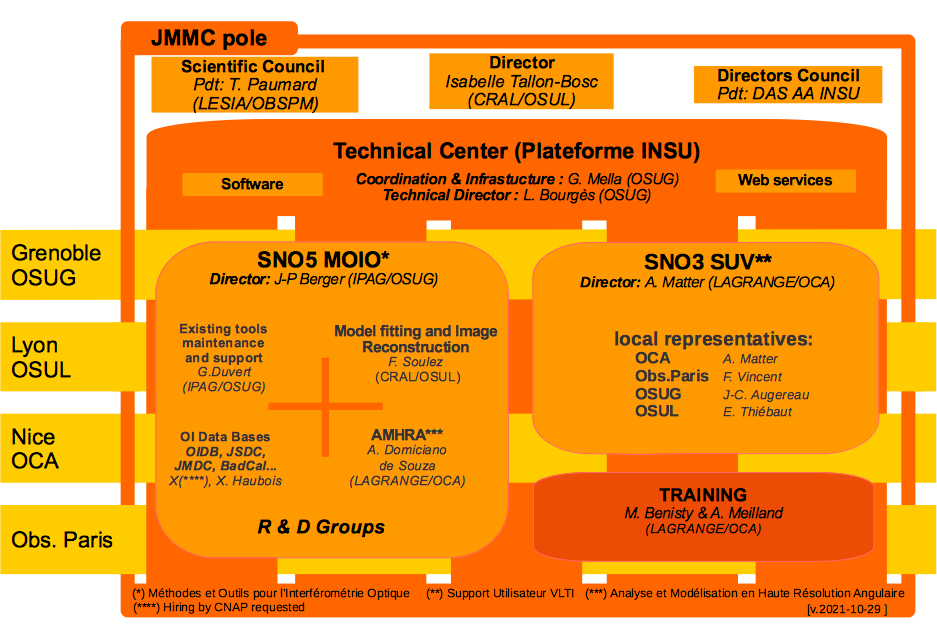 Organization
Management
The JMMC is headed by a Director who manage the general activities of the center and the relations with Institutes abroad. He is assisted by a Scientific Director who coordinates the research and production activities of the Groups and of the Software Development Center.
JMMC activities concerning software production and maintainance are grouped in a National Observation Service (SNO5 in French typology) called MOIO (for Méthodes et Outils pour l'Interférométrie Optique). MOIO projects are driven by a Project Manager at the Software Development Center. The JMMC activities concerning User Support, Education and Outreach are grouped in a separate National Observation Service, the SNO3 SUV (for Service aux Observateurs du VLTI). The JMMC as a whole makes the French Pôle de données d'interférométrie optique.
Groups are association of researchers and engineers around a common R&D interest.
Director:
2013+ Gilles Duvert
2001-2012 Alain Chelli
Scientific Council
The projects of the JMMC are defined, analysed and priorized by a Scientific Council representative of the Partner Laboratories. The Scientific Council is formed by:
Gilles Duvert (Director, OSUG)
André Ferrari (OCA)
Jean-Francois Gonzalez (CRAL)
Sébastien Derriere (CDS)
Sylvestre Lacour (OBSPM)
Laurent Mugnier (ONERA)
Nicolas Nardetto (OCA)
Coralie Neiner (OBSPM)
Thibaut Paumard (OBSPM) : chair
Pierre-Olivier Petrucci (OSUG)

Past members of the Scientific Council
Pascal Bordé (IAS)
Alain Chelli (OSUG)
Olivier Chesneau † (OCA)
Françoise Genova (Representative ASOV, CDS, Obs. Strasbourg)
Pierre Kervella (Obs. Paris)
Bruno Lopez (OCA)
Fabien Malbet (OSUG)
Denis Mourard (OCA)
Engineers
Engineers are detached to JMMC by the Partner Laboratories, on a yearly basis, or per project.
Secretaries
The JMMC administration is provided by IPAG.
Aline Bellosguardo
Past secretary : Fabienne Boucard, Laurence Platel.